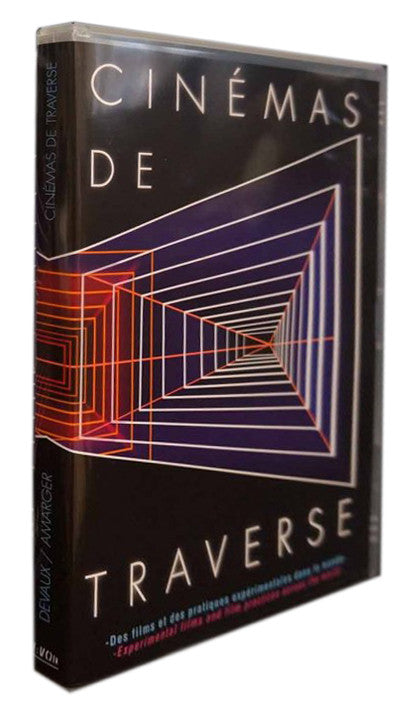 Cinéma de Travers
Regular price €22.90 Sale
Documentary about films and experimental practices in the world. Includes 2 DVDs (movie + bonus) and a 20-page booklet with texts by Raphaël Bassan, Emile Breton and Gabriela Trujillo.

This journal was compiled between 2005 and 2009 on four continents. This is a subjective journey through the approaches and experimental procedures to show the magnitude of this research and to honor filmmakers who participate in the history of cinema: Jonas Mekas (USA), Peter Kubelka (Austria), Boris Lehman (Belgium), Joseph Morder (France), Peter Tscherkassky (Austria), Guy Sherwin (UK) among others. These byways lead us to the places of production and distribution networks created specifically for experimental films.

...These crossing paths are chances for beautiful discoveries, because they lead us to meetings of living characters who believe in what they do.
-Émile Breton (critic for L'Humanité)

'Cinémas de Traverse' fills a void and functions as a map. It provides trail markers to help us measure and orientate ourselves in order for us discern the intensities of what continues to be invented in this continent, which has been left so untouched by documentary cinema.
- Gabriela Trujillo (writer and researcher)

The work of Devaux and Amarger points to experimental cinema's practical and intellectual resources, and poses questions to the practitioner-citizens of this 'new Republic' as the filmmakers set off – subjectively – to the ends of the Earth, following the path cleared by experimental cinema.
-Raphaël Bassan (cinema critic and historian)

Frédérique Devaux and Michel Amarger realize experimental films and documentaries since 1980. They undertake from 2000, a series of portraits of artists and experimental structures, entitled 'Cinexpérimentaux.'

* Frédérique Devaux is critical and cinema lecturer in Audiovisual Department (Satis) from the University of Marseille / Aix-en-Provence.

* Michel Amarger produces documentaries and research. Meanwhile, he leads a reporter for Radio France International activity and covers cinema news. It participates in the management of associations for the promotion of the 7th art and animates the Africiné critical network which is one of the initiators.